Chicken Salad (Stolen from a Rylstone Cafe)
AZPARZYCH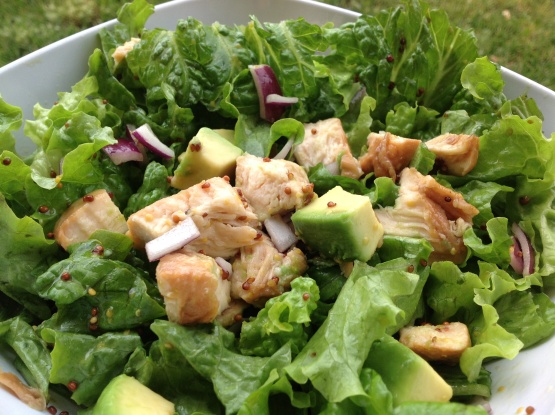 First had this in a little cafe at Rylstone, which is a tiny place near Mudgee, NSW Australia. The chef was kind enough to give me the recipe.

Top Review by Jen T
Excellent was the verdict from family :) I couldn't decide between the avocado and the mango so added both. I also added some chopped red peper which I had on hand. I used spring onion in place of the red onion. Topped it all off with some toasted cashew nuts. Thanks for a great 'Keeper' :) Update; May 2009: This time doubled the amounts of ingredients & added in some black & green grapes & cherry tomatoes cut in halves along with the mango, avocado, red onion, spring onions & red pepper. This was a big hit at the pot luck I took it too :) I really enjoy this salad and make it often.
Put lettuce leaves in serving bowl, throw in everything else.
To make dressing: place all ingredients a in screw top jar, and shake till well mixed, pour over salad about 30 minutes before serving time.
Keep in fridge.