Redsie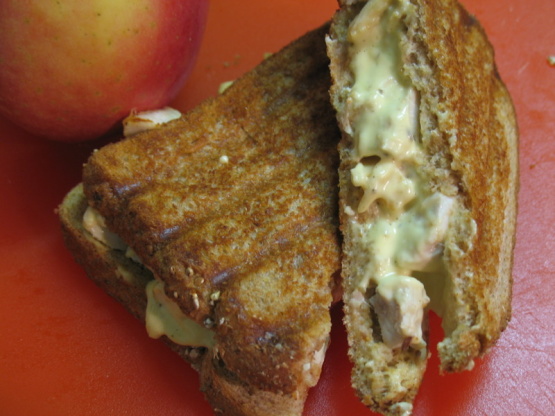 Have any left over chicken that you don't know what to do with? How about trying this sandwich? The honey mustard dressing gives the chicken plenty of pizzazz, and the apples and pecans lend a lively crunch!

Bought our first Panini Grill this week [ Villaware] and used this recipe for our trial as it sounded sooo good..Did add approx. 1/8 cup of chopped red peppers to the recipe but kept everything else as stated with the exception of the White bread...We used 3" square Focaccia rolls split and brushed with butter then grilled untill done. Wonderful !...Will make again. Oh, yes we used leftover rotisserie chicken. WCJACK
In a small bowl, combine the first six ingredients.
In another bowl, combine the chicken, cheese, apple and pecans; add dressing and toss to coat.
Spread half of the chicken salad on two slices of bread.
Top each with another slice of bread, remaining chicken salad and remaining bread. Spread butter on both sides of sandwiches. Cook on a panini maker or indoor grill until bread is toasted and cheese is melted.