Chicken Salad Like Whole Foods'
Mrs. TK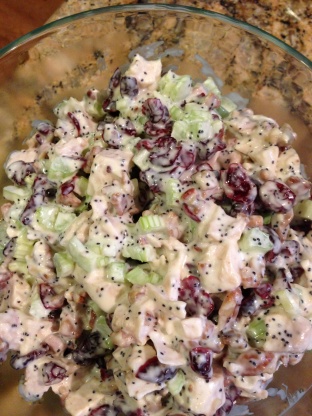 This salad is very similar to the Sonoma Chicken Salad at Whole Foods' Deli. I love it - just not the hefty price tag. I enjoy creamy chicken salads with grapes and hope others will too. This is a combination of some other chicken salads and the ingredient list from Whole Foods. Plan ahead, the dressing should sit overnight in the refrigerator to meld flavors before adding to the other ingredients.

Excellent salad. I made half a recipe and it turned out great. I've never had it at Whole Foods but easy and quick to make. Better after it chilled. Served with a spinach salad and poppy seed dressing.
Combine mayonnaise, cider vinegar, honey, poppy seeds and salt and pepper.
Refrigerate overnight for the flavors to meld
Place chicken breasts in a shallow baking dish with 1/4-1/2 cup water.
Cover chicken and bake in a 375F oven until cooked through - about 25-30 minutes.
Cool and cut the chicken breasts into 3/4 inch pieces (or whatever bite size you wish) then chill.
Add the chopped celery, chopped toasted pecans, and grapes.
Pour the dressing mixture over the chicken mixture and combine gently until coated.
Serve on top of a green salad or as a sandwich.