PaulaG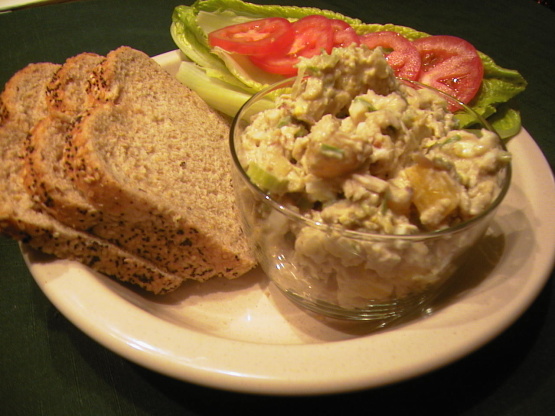 I can't remember where I got this recipe, but it is honestly the best thing I've ever tasted...and it's good for you. I could live on this chicken salad. Try it, you'll love it!
Bring a large pot of water to a boil.
Add chicken and cook until thoroughly cooked and no longer pink inside, approximately 10 to 15 minutes.
Drain, cool and chop.
Place eggs in a saucepan and cover with cold water.
Bring water to a boil and immediately remove from heat.
Cover and let eggs stand in hot water for 10 to 12 minutes.
Remove from hot water, cool, peel and chop.
In a large bowl, mix together the chicken, sliced eggs, apple, onions, relish, mayonnaise, celery, pineapple (with just a little juice for flavor), cilantro, pecans and fajita seasoning to taste.