Chicken Salad for an Endless Summer
MsSally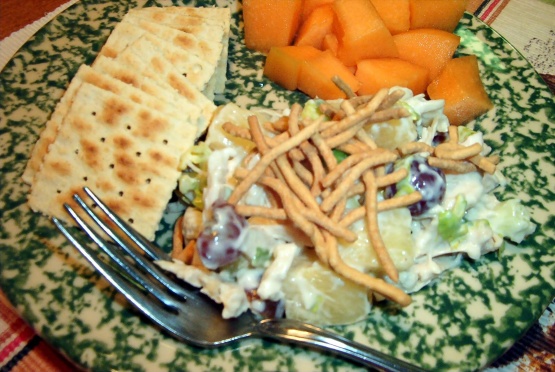 Great for warm summer evenings, or, remember summer during the winter! Makes a perfect luncheon salad, too. This is a recipe of my friend, Olive.

This was outstanding. DH and I loved this. I omitted the peas (we don't care for those) and I used peanuts instead of cashews (what I had on hand) served with cantelope and crackers. Great light dinner for a HOT summer night. Thanks for the great recipe.
Tear the cooled chicken breasts into bite sized pieces and place in a good sized bowl.
Add celery, pineapple and grapes.
Toss.
Add the peas, green onion and cashews.
Toss.
In a small bowl mix together the mayo and 1/4 c reserved pineapple liquid until smooth and creamy.
Add the mayo mixture and fresh chives to the chicken mixture and fold gently.
Add salt and pepper to taste.
Refrigerate for at least an hour to blend the flavors.
To serve, place romaine leaves on a serving platter (or use 4 individual plates) and top with the salad mixture.
Sprinkle with chow mein noodles for garnish.