lazyme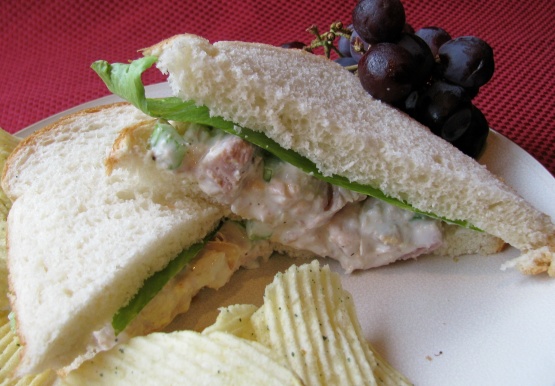 This is a recipe I received from a friend's mom and I tweaked it just a little. A very simple recipe for parties, goes great on croissants. I made mine with plain white bread cut into Christmas tree shapes. The spices can be altered to suit your own tastes.
Add broth, wine, bay leaves, a couple dashes of salt & pepper and enough water to cover the chicken into a deep pot.
Bring to a boil, add chicken (add more water if needed to cover the meat).
Turn down heat to a slow boil.
Cook for 20 minutes or until no longer pink.
Remove chicken and let cool.
Shred meat by hand for chunky salad or place chicken into a food processor if you wish for a very shredded consistancy.
Combine mayo, onion, celery in bowl
Mix in chicken, add more mayo if you so desire.
Taste and add spices to your liking.
Chill and enjoy!