alligirl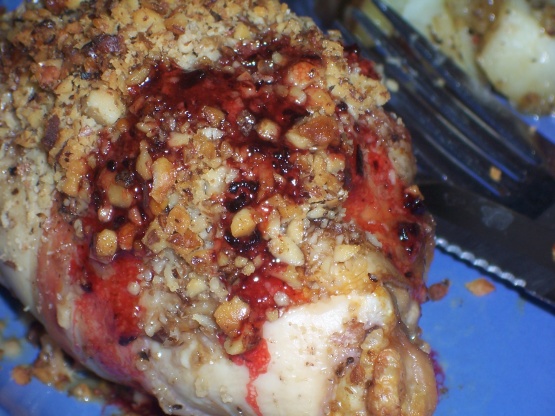 Yet another way to prepare chicken! This gives an elegant presentation.It's great as a family meal, and your guests will enjoy this beautifully prepared entree as well. If raspberries are in season, sprinkle a few around the plate.

WONDERFUL! (And I made a mistake and it still turned out GREAT!) I followed the recipe as directed, but had a bit more walnuts left over, as I had eyeballed those, so I sprinkled them over the top. The chicken browned in the oven beautifully. When making the sauce, I only reduced the vinaigrette, as I forgot the other 2 ingredients :-( It was still wonderful, and I would make it like that again, though I will try it the right way, with the sauce made as directed. Thanks for sharing a great dish, FLUFFSTER.
Pound chicken breasts to 1/4-inch thickness with flat side of meat mallet or chef's knife.
Roll cheese in walnuts.
Place 1 spinach leaf on each breast; top with a cheese quarter. Fold chicken around spinach and cheese to form a mound.Sprinkle salt and pepper over chicken. Place chicken in baking pan. Cover. Bake in 350 degree oven for 30 minutes or until chicken is fork-tender.
Mix wine and dressing in small skillet. Cook over medium heat until sauce is reduced by one-half: stir in butter or margarine. Pour sauce over chicken.
Serve with rice.
*If raspberry vinaigrette is not available, substitute 1/4 cup bottled reduced calorie red wine vinegar and oil dressing and 1/4 cup seedless raspberry jam. Omit butter or margarine.