Chicken Rolls Stuffed With Bell Peppers
Derf2440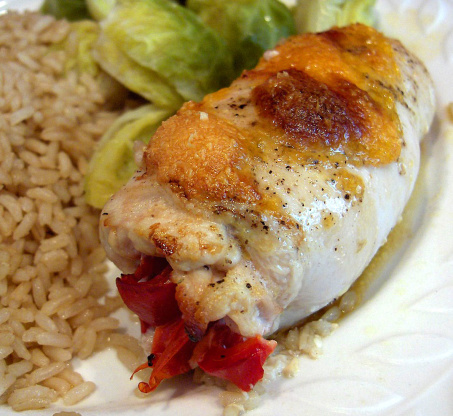 I love bell peppers and this makes a tasty main dish with beautiful presentation.

Lovey stuffed chicken, very pretty! Would be great to serve to company. It was nice and moist, we liked the spread inside and the bell peppers; the thyme and oregano went well with the peppers. I used red peppers and just made half a recipe for the two of us, I wish I had made the whole recipe. thanks for posting I will be making it again.
Preheat oven to 350.
Pound chicken breasts to about 1/4" thickness and store in fridge until needed.
Combine water, onion powder and garlic powder in small saucepan and bring to a boil.
Add bell peppers and return to boil.
Reduce heat to med. low, cover, and simmer 2-3 minutes until peppers are crisp tender and drain.
Combine 1/2 tsp oil, oregano, thyme and pepper.
Spread mixture over one side of chicken breasts.
Arrange bell peppers on top.
Roll up chicken and secure with toothpicks.
Place chicken, seams side down, in ungreased 8" square baking dish.
Brush with remaining tsp of oil.
Combine cheese and bread crumbs and sprinkle over chicken.
Bake, uncovered, for 20-25 minute or until chicken is done.
Remove toothpicks before serving.