Annacia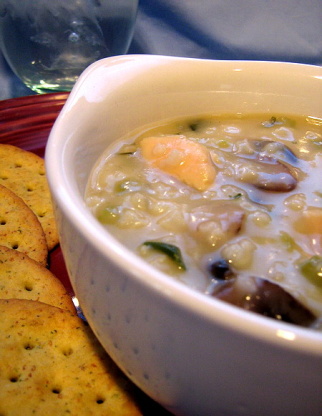 My best friend Tammi made this on my first visit to her new home, built in 2007 on 40 acres in Olde Florida. She got it from the Publix grocery store's "Apron's" recipe collection.

Wow!! This soup is fantastic!! I am really trying to watch my calories and this soup tasted soo good! I did leave out the white wine and I added salt to taste and I could not believe how good it was!! Thanks so much Jen for sharing this fantastic recipe with us!!
Preheat large saucepan on medium-high 2–3 minutes; place olive oil in pan; swirl to coat; add onions, bell pepper, celery, mushrooms and pepper. Crush garlic into pan using garlic press. Use knife to remove garlic from bottom of press. Cook 3–4 minutes, stirring often, until vegetables begin to brown. Meanwhile, chop spinach coarsely.
Stir in rice and spinach; cook 1–2 minutes, stirring often, until spinach wilts. Stir in broth, half-and-half, and wine (in that order); bring to boil.
Reduce to medium and cook 15–17 minutes, stirring occasionally, until rice is tender. Meanwhile, cut chicken into bite-size pieces; set aside.
Combine water and cornstarch in small bowl until well blended. Stir chicken into soup. Slowly add cornstarch mixture, stirring continuously, until blended and soup begins to thicken. Cook 2–3 more minutes, stirring occasionally, to heat chicken and blend flavors. Serve.