Parsley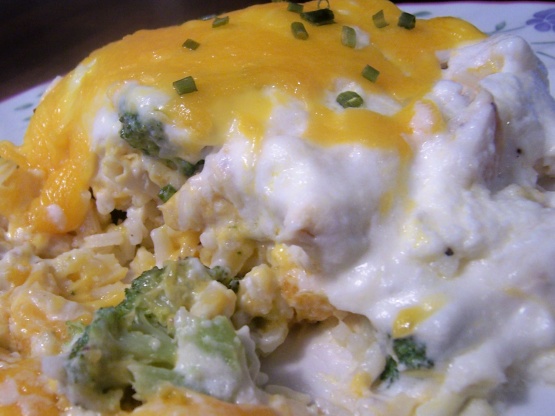 I got this off of Southern U.S. Cuisine. We love it! I have made a lower fat version of it using lite cheddar, lite sour cream and margarine without the taste being compromised at all. DH loves this casserole and always goes back for seconds!

This was very good. Easy to put together and tasty. I also mixed everything together. I sauted an onion and threw that into the mix with broccoli, chicken and rice. I also upped the rice to 2 cups. I used a 1 pound bag of broccoli florets and stems. Rather than use the milk, flour and butter I used a can of 98% FF Cream of Chicken soup and just mixed that with the chicken and rice mixture. Topped it off with sour cream and then cheese. Baked uncovered the entire time (about 30 minutes). This seems to freeze well also. Good comfort food without all the guilt. Thanks for posting.
Cook broccoli according to package directions; drain well.
Arrange broccoli in 13x9x2-inch baking dish.
Sprinkle with half the cheese; top with cubed chicken.
Season with salt and pepper; spoon on the cooked rice.
In a saucepan, melt butter over low heat.
Blend in flour; stirring a minute or until flour turns slightly golden, add milk.
Cook, stirring constantly, over medium heat until mixture thickens and bubbles.
Remove from heat; stir in lemon juice and fold in the sour cream.
Pour over chicken.
Bake covered at 400' for 15- 20 minutes.
Remove foil sprinkle with remaining chees and bake another 5 minutes.