Zurie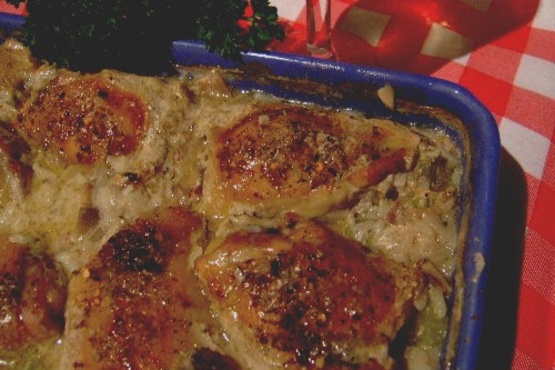 This one comes from my Mother's recipe collection. It is easy and delicious. I use 4 large breast halves.

Should've doubled this! I really loved it... some other picky family members weren't impressed. I did make a few changes - omitted the celery and mushrooms. Sauteed some mushrooms separately since I'm the only one that likes them. Served with steamed green beans. Yum!
Heat oven to 375 degrees.
In ungreased 9x13 pyrex dish, combine raw rice, onion, 1/2 tsp salt, celery, water, soup and mushrooms; mix well.
Arrange chicken on top of rice mixture, skin side up.
Either drizzle melted butter over chicken or place a small pat of butter on each piece then sprinkle with lawry's salt to taste.
Bake at 365 degrees for 1 hour or until chicken is tender and done.