Chicken Reuben (5 Points)
teresas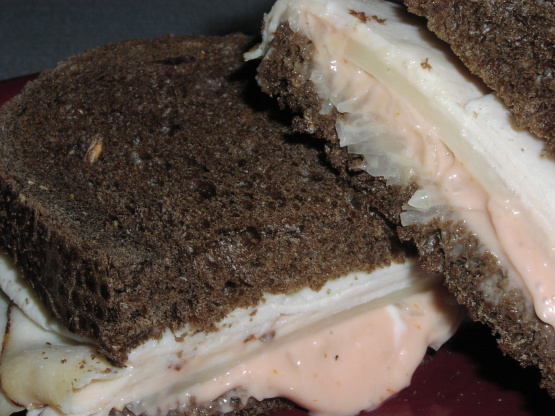 This sounds very good and simple. From Weight Watchers Slim Ways Chicken.

Great sandwich! Made as posted with no changes. I used a nice dark rye. This has a wonderful kick to it. Really didn't taste the sauerkraut. Next time I will put more on cuz has 0 points. Quick, easy and delicious. Thanks lazyme for posting a great WW dish.
Preheat broiler.
Line large baking sheet with foil.
To prepare dressing, in small bowl, combine mayonnaise dressing, ketchup, horseradish, onion and Worcestershire sauce.
To prepare sandwiches, place 1/4 of the chicken, cheese, sauerkraut and dressing onto each of 4 slices of bread; top each with another slice bread.
Broil 8 inches from heat until golden brown; with spatula, turn to brown other side.
EACH SERVING PROVIDES: 1/4 Vegetable; 1 1/2 Proteins; 2 Breads; 30 Optional Calories.
PER SERVING: 295 Calories; 17 g Protein; 7 g Fat; 40 g Carbohydrate; 160 mg Calcium; 991 mg Sodium; 35 mg Cholesterol; 5 g Dietary Fiber, 5 points.