Prep 10 mins
Cook 10 mins
This dish is a wonderful twist on the traditional Mexican chiles rellenos.
Directions
Place each chicken breast halves between 2 pieces of heavy duty plastic wrap. Flatten each breast to ¼-inch thick using a meat mallet or rolling pin. Sprinkle with salt.
Place a green chili half and 4 slices cheese in center of each piece of chicken. Roll up lengthwise, tucking edges inside. Secure roll with wooden toothpicks.
Dredge chicken in flour. Combine egg and milk. Dip chicken in egg mixture then roll in bread crumbs.
Fry chicken in 2 inches of hot oil (375°F) in a deep skillet or Dutch oven for 10 minutes or until golden, turning once. Drain well on paper towels.
Serve immediately with salsa.
Most Helpful
These came out wonderful! I used dried bread crumbs as I found I was out of bread when I started but it did not hinder the outcome whatsoever! These were easy, quick and very good. Everyone loved them, and I even used store bought salsa! I will be looking for a salsa recipe here to add to this next time.....and there WILL be a next time! Thanks. :)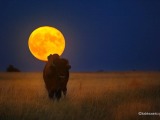 A new family favorite!!!!!!!!!!
Excellent recipe. I had fresh hot chilis so used thosed and monterey jack instead of the canned and the pepper jack. It\'s easy to make and the ingredients are easy to find-even in a small community. My family loved this so much that today will be the second time in 10 days that I\'m making this recipe-it is now on our regular menu plan.