Pamela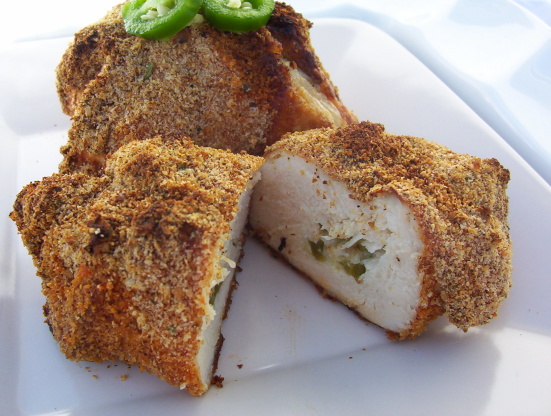 A healthy, flavorful version of a wonderful Mexican dish.

My husband, who is generally pessimistic about trying any new recipe, loved this! It was a little tricky getting the chicken to make a nice roll (I had to use extra toothpicks), but it turned out well. I think using smaller chicken pieces is easier, so I recommend cutting the breasts in half or thirds. This also freezes well!
Preheat oven to 400°F.
Flatten chicken breasts between wax paper to 1/4-inch thickness using a meat mallet or rolling pin.
Place 1/2 green chili and 1 ounce cheese in the center of each chicken breast.
Roll chicken lengthwise and secure with wooden skewers or toothpicks.
Combine breadcrumbs and next 4 ingredients.
Dip rolls in milk, then dredge in breadcrumb mixture to evenly coat.
Place chicken in a baking dish sprayed with nonstick cooking spray.
Bake uncovered 30 minutes or until tender.