ihvhope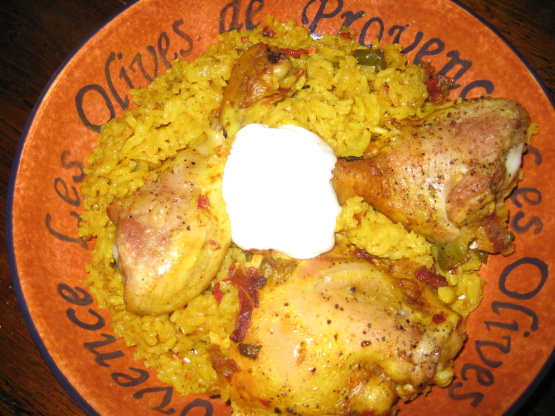 I'm posting this for safe keeping. I got this recipe from my step-mom. She didn't cook much but she'd make this now and then and I remember thinking I'd died and gone to heaven. I have been making it for myself for too many years to count. It's easy and always a crowd pleaser. It's great served with warmed tortillas and a garnish of sour cream. Do not leave out the turmeric--it makes this dish. It alway makes the BEST leftovers.

I think I must have done something wrong. The rice was very mushy. I did cover the dish, perhaps that was the problem, uncovering it for the last half hour. The flavor was subtle and the chicken moist, but the rice was disappointing. I will try this again cutting back the chicken stock by 1/2 cup.
Heat oven to 350.
Brown chopped onion and chopped bell pepper until just brown, being careful not to burn.
Add minced garlic and cook for two minutes.
Add rice, pimentos and stir for about two minutes on low heat.
Add chicken stock. turmeric, cayenne, and chili powder.
Pour into a 2 quart casserole dish and arrange chicken on top and salt and pepper.
Cook for one and a half hours.