Chicken Rama in Thai Peanut Sauce
Starrynews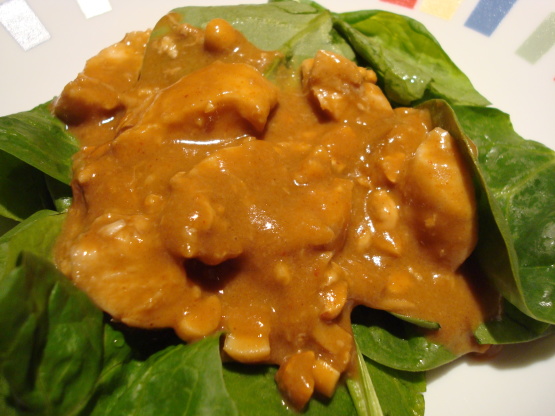 My husband loves Thai food, and he has been trying to get the recipe for his favorite dish, chicken rama in a spicy Thai peanut sauce. After trying a few recipes, we adjusted some of the ingredients to suit our taste buds, and we came up with a recipe that we both really like. And it's really easy to make, and is ready in less than 30 minutes.

I scaled the ingredients to one person and cooked it up and it was delicious! I served it on top of some brown rice, spinach, and assorted other steamed vegetables for a winner of a dinner. Will definitely be making this again soon!
Add coconut and ginger to a medium saucepan, and stir until well blended. Cook it over medium heat and bring it to a boil.
Add the chicken pieces to the saucepan. Reduce the heat and let it simmer 5-7 minutes or until the chicken is cooked through (i.e., no pink remains).
With a slotted spoon, remove the chicken and transfer to a bowl; cover and set aside. If any coconut milk accumulates at the bottom of the bowl, just pour it back into the saucepan.
To the saved coconut milk, add the peanut butter, red curry paste, fish sauce, brown sugar, and chopped peanuts. Continue cooking over medium heat, stirring constantly, for 10 minutes or until the sauce is creamy and not grainy in appearance.
Add the chicken, and heat for another 2 minutes.
Arrange the spinach on plates.
Spoon the chicken and peanut sauce over the spinach leaves,.
Classic side dishes to accompany this dish are steamed white rice (calrose rice is especially fitting) and pad Thai noodles.