Chicken Quesadillas With a Kick
kperry08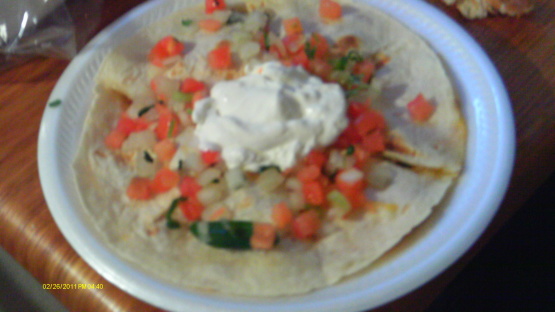 My take on a quesadilla recipe I found online. I like a kick so I changed to seasonings. It is a great reheat, although it became a little spicier because the ingredients had time to set in. My family loved these.
6

boneless skinless chicken breasts (or a pack of chicken tenderloins, diced)

1

cup Pace Picante Sauce (medium or hot works also)

1

cup pico de gallo (or fresh made, whatever suits you best, add more to your liking)

2

tablespoons n'orleans creole seasoning (for the kick, add as you see fit)

2

tablespoons lime juice

2

tablespoons extra virgin olive oil

10

tortillas
Kraft Shredded Monterey Jack Cheese (4 cheese mexican blend, but it won't let me fit it)
Dice chicken. Add lime juice, and creole seasoning. (This is not meant to be a marinade).
Heat oil in skillet. Add chicken. Cook until juices run clear. Add pico de gallo, and mild picante sauce.
Let simmer, uncovered, for about 5 minutes, stirring occasionally.
The next part I used my quesadilla maker to finish off:.
Add cheese to one tortilla, spoon the meat filling on top, then top with another layer of cheese and another tortilla.
Cook until cheese is melted.
Repeat with remaining ingredients.
Alternative way for those without a quesadilla maker:.
In a heavy skillet, heat one flour tortilla.
Spread 1/4 cup shredded cheese on the tortilla and top with 1/2 the chicken mixture.
Sprinkle another 1/4 cup cheese over the chicken and top with another tortilla.
When bottom tortilla is lightly brown and cheese has started to melt, flip quesadilla and cook on the opposite side.
Remove quesadilla from skillet and cut into quarters. Repeat with remaining ingredients.
Serve with sour cream, salsa and chips, or alone.
Recipe alternative for more spice:.
Try adding diced jalepeno peppers to the mix or more creole seasoning.