VickyJ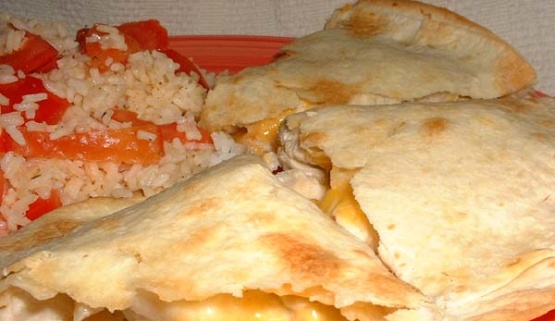 We love to eat these for dinner; they're fast and easy. They are low in fat too! You can also throw in some rice and add sour cream for dipping along with the salsa. I cook the chicken in the oven (marinated in luisiana hot sauce and salsa) and then I make the Quesadillas when the chicken is still hot. You can also use previously cooked chicken.
Place one tortilla in fry pan sprayed with cooking spray.
Scoop one tablespoon of salsa onto tortilla and spread over to cover it (not too much).
Layer 1/2 each of the cheese, chicken and green onion.
Place another tortilla on top, spray tortilla with cooking spray.
Heat until golden brown, then turn over and brown other side.
Repeat with remaining tortillas and ingredients.
Slice in pie wedges.
Serve with salsa.