Chicken & Pumpkin Curry (21 Day Wonder Diet: Day 13)
Sara 76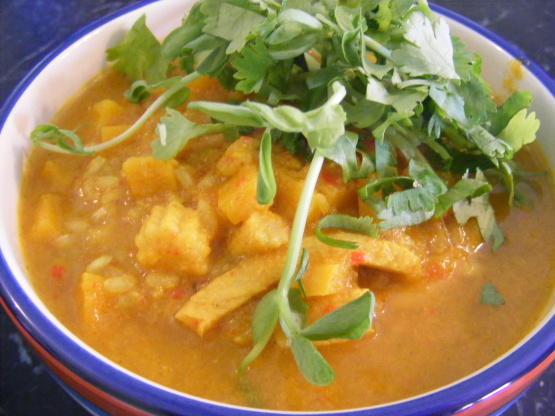 This is Day 13: Lunch, on the 21 Day Wonder Diet. You can make this whole recipe the day before. This lunch is to be followed by an afternoon snack of 125g grapes.

We really loved the flavor of this dish.
Cook rice in large saucepan of boiling water unril tender, drain.
Meanwhile, blend onion, coriander root and stem mixture, coriander leaves, chilli, garlic, ginger, and turmeric until smooth.
Cook paste in medium frying pan, stirring, until fragrant. Add stock, chicken and coconut milk; bring to a boil. Reduce heat; simmer, covered, 10 minutes.
Add pumpkin and corn to pan; simmer, uncovered, 10 minutes.
Serve rice topped with curry, sprouts and extra coriander.