Chicken,pumpkin and Spinach Cannelloni
Pietro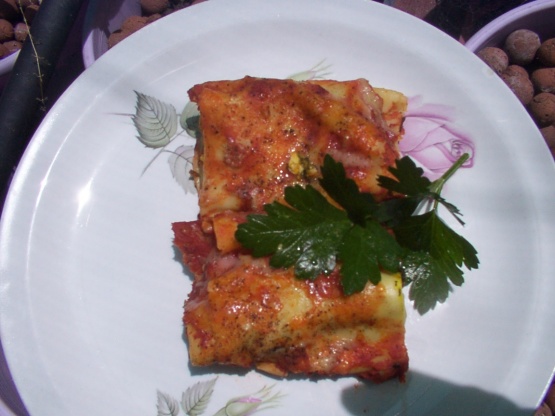 It is easy and very tasty. Pork or veal mince can be substituted for chicken mince. Just for fun, why not have a combination of pork,veal and chicken. Whatever you choose,this recipe will get you top votes. You can make it ahead of time and it will freeze for up to 2 months.

This was very very yummy. I confess I didn't use chicken, so made this as a vege meal. I just added a bit more ricotta (50 g) and a bit more pumpkin (100g) and a bit more spinach (50g). I also put a bit of freshly ground black pepper in the stuffing mix, and also a little bit of parmesan on the tomato sauce. The taste was still fantastic though. I have my own recipe for spinach & pumpkin cannelloni, but I cube the pumpkin (small cubes) & roast it first. Last night I just didn't have time though. The whole tray got eaten in one sitting, my DH admitted today that he could have eaten it all by himself (if it wasn't for me obviously!). Thanks for the great recipe!
Preheat oven to 200°C Put pumpkin, nutmeg, pancetta, chicken mince, spinach, garlic and ricotta in a bowl and mix well to combine.
Cut the lasagna sheets into half.
Place 3 tablespoons of filling at one end of the lasagna square.
Roll up the lasagna square to enclose the filling.
In a heavy based frypan add olive oil.
Add garlic and onion and cook on medium heat until soft and golden.
Add tomato passata and white wine and bring to the boil.
Cook on high heat for 5 minutes or until sauce thickens.
Remove from heat and add basil and season to taste.
Spoon a generous serve of the tomato sauce over the base of a 35cm x 25cm oven proof dish.
Arrange the cannelloni tubes over the top of the sauce in a single layer.
Spoon the remaining sauce over the cannelloni.
Sprinkle combined cheeses over cannelloni and bake for 25 minutes or until pasta is soft and cheese is golden.
Serve cannelloni with a green salad tossed with olive oil, balsamic vinegar, crushed garlic and Dijon mustard dressing.