Chicken Pulao With Lemon and Onion
rpgaymer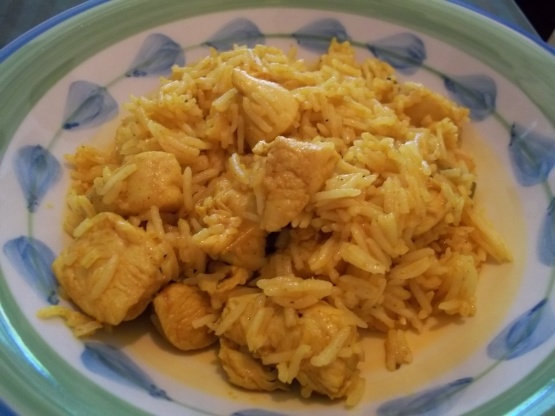 From "Indian in 6: 100 Irresistible Recipes that Use 6 Ingredients or Less." Serve with a raita for a complete meal.
Put the rice and double the quantity of water in a heavy saucepan. Bring to a boil. Reduce the heat and simmer partially covered until done. Run a fork through to loosen the grains, cover the pan with a lid and reserve.
Meanwhile, heat the oil in a wok. Fry the onion. When translucent, remove half of the slices and reserve. Continue to fry the remaining onion until dark golden in color. Drain and reserve separately.
Put the translucent onion back into the wok and add the ginger-garlic paste. Fry for a few seconds.
Sprinkle in the spice powders and add the chicken. Stir to seal, until the chicken looks white instead of pink.
Add about 4 tablespoons hot water, cover the wok and cook until the chicken is tender and cooked through.
Remove from the heat, add the lemon juice and season with salt.
Gently stir in the cooked rice.
Sprinkle the golden fried onions on top and serve hot.