Chicken, Potato, and Biscuit Casserole Dish
Diana 2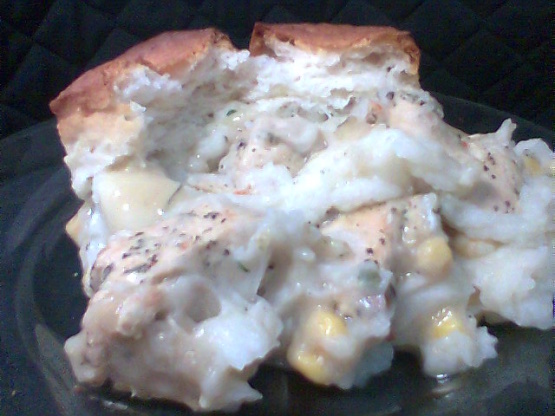 Your family is going to absolutely love this dish! I love it because it is so delicious and it is so easy and my family loves it!! I was sick of all of the normal chicken and biscuit recipes so i put a twist on it and that is how i got this recipe. I think all will love it and enjoy making it for the family.

This is absolutely delicious - I used it with my own mashed potatoes. I did have a problem with some of the biscuits not baking completely thru - but I think I have a fix for this. If you pull each biscuit apart into a half, it will cook thru. : )
1. Boil water in large pot. Chop chicken and add into the pot once it is boiling. It will be done when it is no longer pink. Strain when done.
2. Follow direction on box for making mashed potatoes, unless you want to make your own from scratch. Once potatoes are made, stir in some seasonings and butter to flavor.
3. Follow directions and boil or steam corn.
4. In a large baking dish, spread mashed potatoes on bottom of pan( about a 1/2 inches thick or so) then spread corn on top of potatoes and add some chicken spread evenly on top. Add seasoning however you like to taste. Then add some gravy evenly over it all. Repeat these steps for second layer except this time after the gravy, add a layer of biscuits.
5. Back according to biscuit package.
6. Heat up other jar of gravy and serve hot portions with gravy over top.
7. Eat and enjoy!