Chicken, Potato and Avocado salad
katew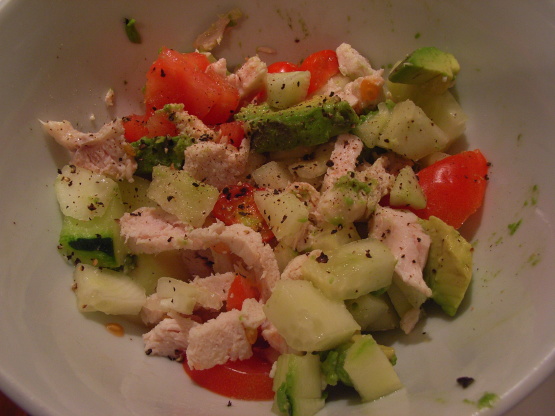 This salad is good served warm, although it can be served cold too. Sometimes I like to throw a few croutons over it if I have them.

Top Review by Latchy
I really enjoyed this recipe, as it is simple and fast to do, as well as being full of flavour. I added choppedbasil to the dressing and I also finished off the plate with a little freshly shaved parmesan. Only complaint would be I think it serves 4 not 6 people, or else we were very hungry another 2 would not have got anything to eat.
Boil potatoes until just tender, 15-20 minutes.
Drain and cool.
Slice chicken and bacon into strips.
Heat the oil and pan-fry the chicken until cooked, remove and pan-fry bacon until crisp.
Drain chicken and bacon on kitchen paper.
Sprinkle avocado with lemon juice to prevent browning.
Halve the potatoes and toss in the dressing with the chicken, bacon and avocado while still warm.
Serve on a bed of the mixed lettuce leaves.