Bergy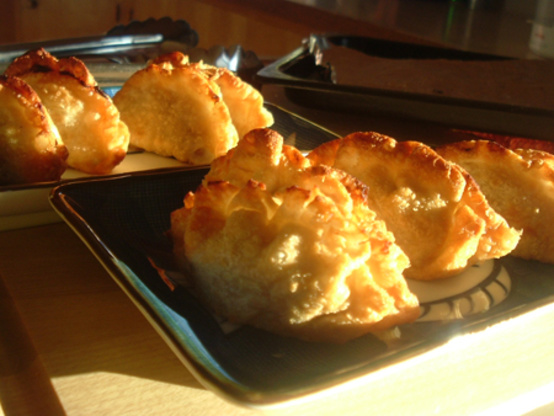 This recipe appeared in SHAPE magazine's August 2000 issue. I've been making it ever since. My husband loves to eat them and always requests them on his birthday. I love that they freeze well.

for more flavor, in place of chicken i used 3 lean sweet turkey sausages removed from their casings (the kind you buy to eat in a bun). i also added a few cloves of diced garlic, 1/3 c. shredded cabbage, 1/4 c. shredded carrots, and about 1 tsp. of fresh ginger. like other raters, i also used won ton wrappers. these were AWESOME! thanks for posting J Wa :)
To create the filling, mix the ground chicken, green onions, soy sauce, salt, and ground pepper in a large bowl.
Place an eighth of the mixture in the center of a wrapper.
Use a water to dampen the corners and edges of the wrapper.
Pull the corners up around the filling and press them together, creating a neat little package.
Repeat 7 more times until you have created 8 wontons.
(If you're cooking in bulk and want to freeze the wontons, stop here.) In a non-stick skillet, heat sesame oil over medium heat.
Place the wontons in the skillet, seam side up, and cook for approximately 2 minutes.
When the bottoms of the wontons begin to brown, add chicken broth.
Place a lid on the skillet and cook until chicken is done, approximately 5 minutes.
Serve with soy sauce.