Chicken Pot Pie With 2 Crusts
Charmie777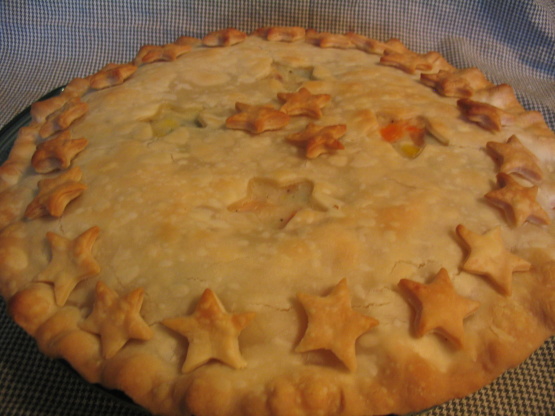 This is old-fashioned, from scratch, comfort food. This has been a family favorite for years. I like to take this to other families when they are in need of a meal. It's always a winner. I like making it with leftover turkey, too! I often add some cooked diced potatoes.

Wonderful. I always add my own touches so this is what I did. A trick I learned years ago...if you are making a "wet" pie like a custard (pumpkin, etc.), brush the bottom crust with some egg white to seal it. Put it in the pan and brush it. Let it set a bit and then put your ingredients in. I added some fresh thyme and rosemary, sauteed mushrooms and pre-cooked litte potato cubes along with the veggies called for (pre-cooked). I also added some white wine and dry mustard. Brushed the top with an egg wash. Fantastic. A keeper!
1⁄3 cup flour
1⁄3 cup chopped onion
1⁄2 teaspoon salt
1⁄4 teaspoon pepper
1 3⁄4 cups chicken broth
2⁄3 cup milk

2

cups cut up cooked chicken

1

(10 ounce) package frozen mixed vegetables

2

prepared pie crusts (1 top crust and 1 bottom crust)
Heat butter over low heat until melted.
Blend in flour, onion, salt and pepper.
Cook over low heat, stirring constantly until smooth and bubbly.
Remove from heat.
Stir in broth and milk.
Heat to boiling; stirring constantly. Boil and stir one minute.
Stir in chicken and veggies. (Add in 1 - 2 diced cooked potatoes if you like!).
Reserve.
Line pie plate with prepared bottom crust.
Pour in filling.
Top with top crust. Cut slits in center to vent. Flute edges.
Cook uncovered in 425°F oven until crust is brown; approximately 30-35 minutes.