nicca90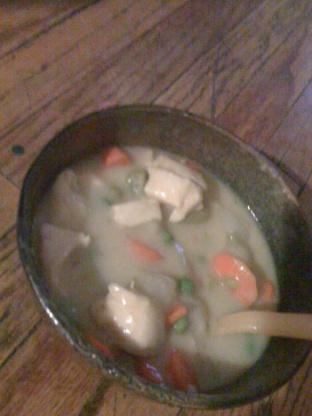 This soup is flavorful and satisfying. I clipped it from a recent newspaper article. This will make 8 1-cup servings.
Mix rosemary, thyme and garlic powder in small bowl; reserve 1/2 t.
Heat 1 t butter in large saucepan on medium heat.
Add mushrooms, carrots, and remaining seasoning mixture; cook and stir 3 minutes.
Remove from saucepan; set aside.
Melt remaining 3 t butter in saucepan on medium heat, stirring to release browned bits from bottom of skillet.
Sprinkle with flour; cook and stir 3-4 minutes or until flour is lightly browned.
Gradually stir in broth until well blended.
Bring to a boil.
Reduce heat to low; simmer 10 minutes or until slightly thickened, stirring occasionally.
Add vegetable mixture, chicken, pearl onions and peas; simmer 8 minutes or until chicken is cooked through, stirring occasionally.
Meanwhile, cut bread into rounds with 3-inch cookie cutter.
Place on baking sheet.
Brush bread with oil and sprinkle with reserved seasoning mixture.
Bake in preheated oven 350 degrees F for 10 minutes or until toasted.
To serve soup, ladle into soup bowls and top each with 1 crouton (bread).