DuChick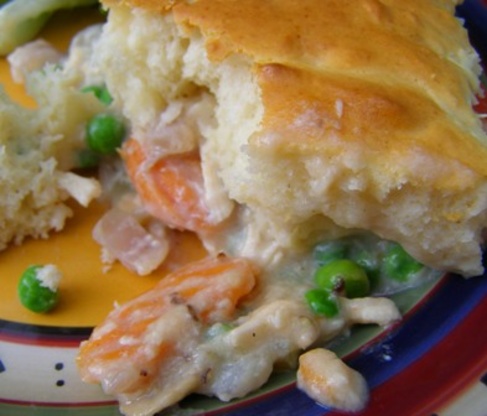 This is a combination of several recipes, trying to balance the joys of a full-fat pot pie with the nutritional demands of a low-fat lifestyle.

Oh, yum! I'm a pot-pie lover from way back when (yes, those little frozen jobs in aluminum pans), but I haven't made any from scratch. I was drawn to this because of its healthier ingredients and we were not disappointed! It was a bit time consuming, but well worth the effort. One thing I should've paid attention to: combine the topping ingredients JUST before pouring over the top. I made it up earlier and it got very thick and difficult to spread. Thanks so much for this, KLHquilts! MERP'd for Zaar Chef Alphabet Soup game.
Preheat oven to 375.
Heat olive oil and butter in dutch oven. Add all vegetables but frozen peas and saute until slightly softened (5-10 minutes).
Sprinkle flour across vegetables and saute over medium-low heat for another five minutes, stirring often.
Add chicken broth and 3 cups skim milk and bring to a boil. Reduce heat and simmer until mixture is thickened (anywhere from 5 to 20 minutes).
Remove from heat and stir in chopped chicken and frozen peas. Add salt and pepper to taste.
Transfer chicken mixture to a 13x9 casserole dish spritzed with cooking spray.
Combine Bisquick, eggs and milk in small bowl. Stir until mixed, then pour across top of casserole.
Bake for 20-30 minutes, or until the top is golden brown.