Ceezie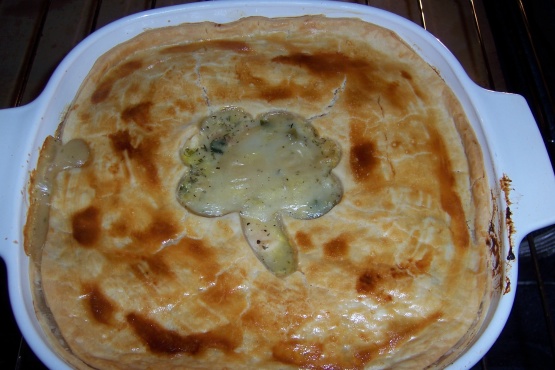 A good Chicken Pot Pie is not complicated, but it takes time. For cooks in a hurry, there are shortcuts. Canned broth can be substituted for homemade stock, leftover or store-bought cooked chicken can be used instead of a start-from-scratch uncooked bird, and frozen peas can be added without thawing. You can even skip the pastry and serve the filling over noodles or rice or even a piece of toast. It will taste fine, but it won't be Chicken Pot Pie. Source: Relish Mag
Preheat the oven to 375°F In a large nonstick skillet, melt butter over medium-high heat. Add onion, celery and mushrooms; sauté 6 minutes. Sprinkle with flour; cook and stir 1 minute. Add broth, lemon juice and milk; increase heat, cook, stirring often, until mixture comes to a boil. Reduce heat and simmer 2 minutes, stirring constantly.
Remove from heat; stir in parsley, thyme, salt, pepper, peas and chicken. Spoon into 13-by-9-by-2-inch baking dish or shallow 3-quart casserole dish.
On a lightly floured surface, roll pie dough to about 1-inch larger than baking dish. Place over top of filling; fold edges under to make a hem and press down with fork. Cut vents on top and brush with glaze. Bake 40 minutes or until golden brown.