Bayhill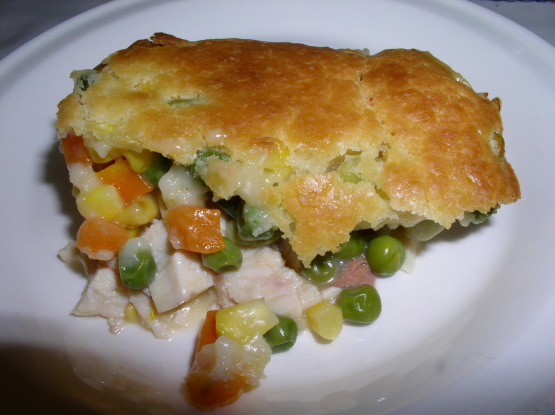 Wonderful, wonderful comfort food. This is an old, old family favorite. I might have to start making two at a time since it is gobbled up in no time. This is so easy to make; boil the chicken, cut it up and mix the batter. Put it all in a dish with the veggies and voila! you have dinner in one dish! It is also a good recipe to take to church suppers.
This pot pie was very good. It is made with ingredients that I usually have on hand, so no trip to the store was needed. It is easy to make and goes together very quickly. The longest part was cooking the chicken. If you used precooked chicken from the store, you could have dinner on the table in basically the amount of time it takes to bake. I adopted this recipe for Pick-A-Chef '06 for its ease and simplicity, and I was not disappointed. My family enjoyed it and gave it 2 thumbs up. Thank you msbelle for sharing this simple, yet delicious recipe.
Spray a 9x13 dish with cooking spray.
Lay chicken on bottom of dish.
Mix soup with broth and pour over chicken.
Layer vegetagles on top of chicken and soup.
Stir the dough ingredients together and pour on top of everything.
Bake @ 350 degrees for approximately 1 hour.
Note: Depending on the size pie you want, you can add or sutract the amount of chicken and vegetables.