Sandy W.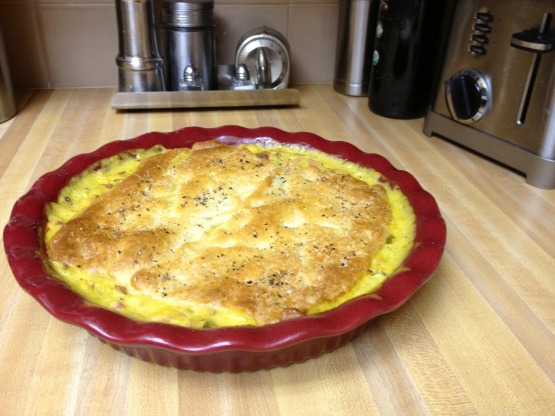 Just a simple way to throw together leftovers and come out with some down-home comfort food. I've included two different ways to do this pie. You only need EITHER the double pie crust, OR the refrigerated crescent rolls, not both.

Was looking to use up some left over chicken thighs, this was great everyone loved it. I also used 1 1/2 cups of frozen mixed veggies that i microwaved for 5 min. In addition I cubed up some left over potato and put in it and I used the cresent rolls. Thanks
473.18

ml chopped cooked white meat chicken

354.88

ml frozen mixed vegetables or 396.89 g can Veg-All or 396.89 g can peas and carrots

297.66

g can cream of chicken soup

2

prepared deep dish pie shells or 1 can Pillsbury Refrigerated Crescent Dinner Rolls
salt and pepper
Preheat oven to 350. If you are using a double crust, set one of them out to thaw a little.
Combine chicken, vegetables, and cream of chicken soup in a large mixing bowl. Add water until the consistency of the mixture is to your liking, not too runny. Salt and pepper to taste.
If you are using a double pie crust, pour the mixture into the crust you have kept frozen. Trim the fluted edge from the thawed one and place it on top of the mixture. Press down the edges to seal and cut a slit in the top to vent. Place the pie pan on a cookie sheet for baking.
If you are using crescent rolls for your crust, place the mixture in a 13x9 baking dish. Unroll the crescents on top of the mixture so that they are flat, don't tear them apart.
Bake at 350 for 30-40 minutes, until bubbly. Keep an eye on the pie to make sure the crust does not burn. You can put tinfoil over the crust edges to prevent this if you like.
If you are using crescent rolls, it usually takes about 30 minutes for them to get crispy enough. You will be baking this a lot longer than the directions say on the can, but this is okay. You want them to end up much crispier than if you were using them for crescent rolls.