troyh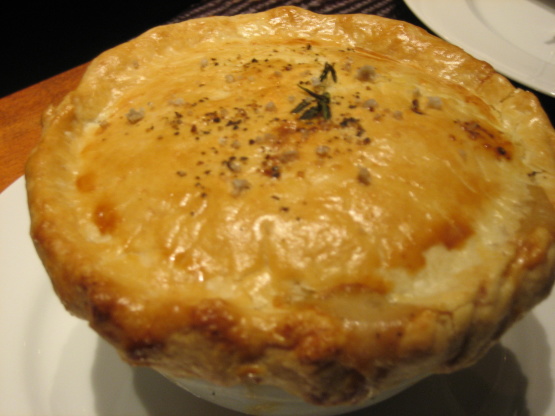 This recipe is from a casserole episode of Good Eats. I love the idea of using frozen puff pastry rounds on top instead of going to the trouble of making a bottom and top crust. The curry powder in the roux gives it a really unique flavor.

Delicious! The use of curry powder is a nice change-up from regular ol' chicken pot pie. I used one sheet of the puff pastry dough to line the bottom of my pie pan (chicken pot pie has to have a bottom crust, imo) and the other sheet on top. Had to add a little extra milk (about 1/4 cup more) to the veg/chicken mix because the sauce was a bit too thick.
Preheat the oven to 350 degrees, and take the pastry out of the freezer to thaw slightly.
Heat a sauté pan over medium heat with a little oil and sweat the celery and onion with a little salt.
While that is softening, toss the veg medley with some canola oil, spread on a baking sheet, and roast in the oven.
Push the celery and onion off to the side of the pan and add the butter, flour, and curry powder. Stir together until smooth and cook for 2 minutes.
Heat the broth and milk in the microwave until close to boiling. Pour into the pan and bring to a boil (about 1 minute).
Add the veggies and the chicken to the pan and stir.
Move the mixture to a casserole dish, packing the mixture down to eliminate air bubbles.
Open the puff pastry sheet, and seal the seams from the folds by pressing with your fingers, then roll out the sheet with a rolling pin.
Using a fork, poke holes all over the dough, and then cut out rounds w/ a biscuit cutter (press straight down through the dough before turning the cutter). Space the rounds about 1 inch inches apart on the top of the casserole.
Bake uncovered for 45 minutes.