Sageca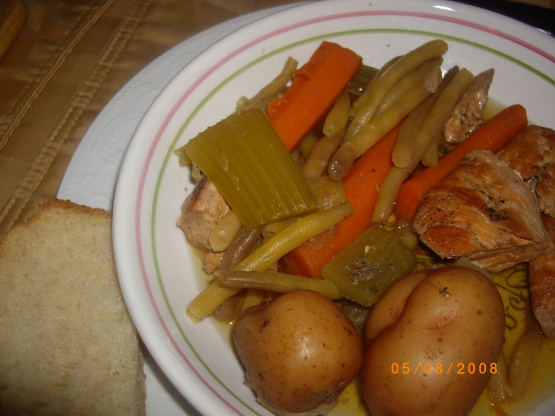 This is an old French Canadian recipe. My mother used to make this and I have been making it for my family.True comfort food. We call it "Bouilli". This same recipe is made using 3 pounds stewing beef that you brown and add to the second part of the meal. No need to make a broth. Make this when all the vegetables are in season.

Fantastic. I was specifically looking for a Chicken Pot au Feu recipe, as I'd had it years ago, and still think about what a wonderful, comforting meal it was. This version lived up to my memory. I just made one change : instead of buillion cubes, I used half home made chicken stock and some vegetable demi glace I had on hand. I have to admit, I doubted whether it was necessary to remove the stock vegetables and start with fresh ones for the actual meal. But I did it, and the vegetables were much firmer and not overcooked vs most chicken soups. Thank you for this wonderful recipe. I am making it again, 3 weeks later!
Broth:.
In a large pot, combine water, chicken broth, chicken, celery, onion, chopped carrot, peppercorns, parsley and thyme.
Bring to a simmer over moderately high heat. Reduce the heat to low and simmer, turning the chicken once, until it is cooked through, about 1 1/2 hours. Transfer the chicken to a platter; let cool.
This can be made in your slow cooker at high for 4 hours.
Remove the meat from the chicken and tear it into large pieces; refrigerate until ready to add to the pot.
Bouilli:.
Strain the broth and return it to the pot.
Add onions, carrots, turnip,potatoes,yellow beans salt and pepper.Cover and cook gently, for 3 hours.Add the boned chicken and simmer another 30 minutes. Serve.
This can be made in your slow cook cooker.
Assemble it in the morning and let in cook on Low for 7 hours; add cooked chicken last hour.
Make sure you have bread to soad up the wonderful juice.
MAKE AHEAD: The chicken broth can be made 2-3 days ahead. Refrigerate the chicken, stock separately.
I have been making it in my slow cooker and letting the flavours mingle together all day.