PALisa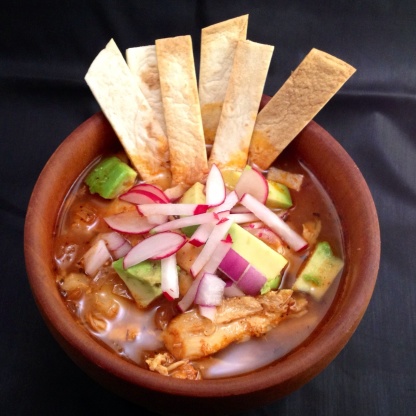 This Mexican-style soup is an entire meal. It will keep in the freezer for up to three months. You can make this soup with any pre-cooked chicken or turkey. We used store-bought rotisserie chickens, but leftover Thanksgiving turkey will work just as well. When reheating, the hominy may pop in the microwave, so the soup should be thawed overnight in the refrigerator, then reheated over low heat on the stove.

OMG, this soup is delicious! It's better than the posole that my Mexican friend made me! The cabbage and avocado are the perfect garnishes for this soup. Next time, I'll also put some cilantro and lime in it. I thought 4 cans of hominy was too much so I only used 3 cans. It turned out great! Love this recipe!
Heat oil in a 5-quart saucepan over medium heat. Add onions; cook until translucent, 3 to 5 minutes. Add garlic, tomato paste, chili powder, and oregano; cook, stirring constantly, until evenly distributed.
Add 4 cups water, broth, and hominy. Bring to a boil; reduce heat to a simmer, and cook until fragrant, about 30 minutes.
Stir in chicken; season with 1 teaspoon salt and 1/4 teaspoon pepper. Cook until heated through. (When freezing, cool completely before transferring to airtight containers.)
To serve, divide among bowls, and garnish as desired.