Leah947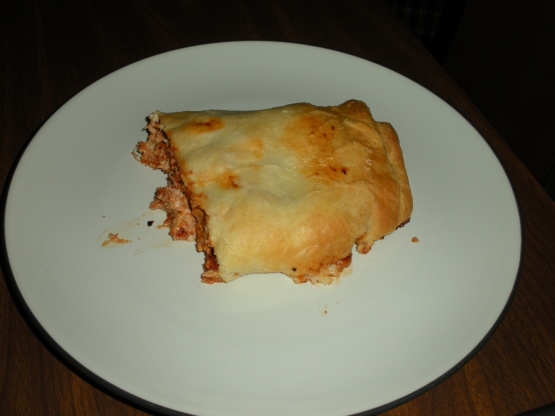 I am a single mom who is constantly trying to find things that my son will like and I can afford. I was wondering around my kitchen this evening and pulled out random things and whipped this up. It's pretty tasty! Great for left overs!
59.16

ml pizza sauce (spaghetti sauce works just as well)

59.14-118.29

ml cheddar cheese (I had mild cheddar on hand)

354.88

ml cooked chicken (again, another left over!)

184.27

g can mushroom stems and pieces

226.79

g Pillsbury Crescent Recipe Creations refrigerated flaky dough sheet
Preheat oven to 350 degrees.
Cut or shread chicken into small pieces.
On a cookie sheet, unroll the Recipe Creation dough.
Spoon pizza/spaghetti sauce onto the dough and spread evenly over all of the dough.
Even layer the mushrooms, chicken and cheese.
Start rolling the dough over itself from one of the longest sides. When you roll it approximately half way, take the other edge and overlap it to create a complete "log".
Bake at 350 degrees for 15-20 minutes.