Chicken Pizza With Caramelized Red Onion
ukichix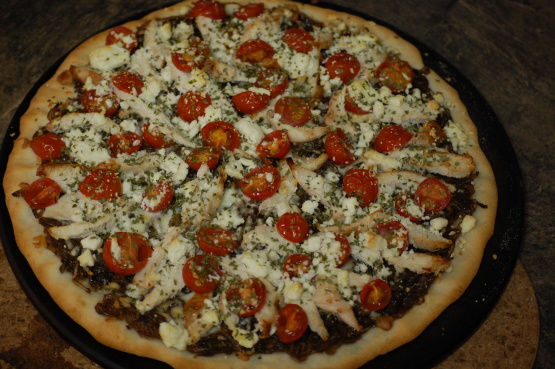 This recipe comes from the local newspaper. The combination of flavors on this pizza is like a party in your mouth with every bite!

This was my selection for NZ/OZ recipe swap #14. It was a wonderful choice. The only changes I made were in using Splenda brown sugar substitute, as I am diabetic and some of the methods. I put the onions, b. sugar and butter and balsamic, with the herbs, in a crock pot over night, to find them perfectly caramelized in the morning. Lazy of me! Then I preheated the oven to 500 degrees F, put two gluten-free crusts on the baking sheets, put just a bit of olive oil on each crust, baking them for 4 minutes to make them crisp. Took them out of the oven and adorned them as you instructed. Turned the oven down to 450 degrees F and baked the pizzas 10 minutes. Your combinations of brown sugar, balsamic vinegar, onions, garlic and herbs, were perfection itself. Feta is about my most favorite of the cheese kingdom. Thank you for posting!
Heat oil in a large skilet over medium heat.
Add onions and stir- cook until transparent.
Stir in brown sugar, balsamic vinegar, garlic, oregano & basil.
Continue to stir- cook until liquid has evaporated (about 10 minutes) and onions are caramelized.
Remove from heat and let cool.
Preheat oven at 400°F.
Spread onions over pizza crust.
Cut chicken into bite size pieces and spread over onions.
Sprinkle with feta, parsley& chopped tomatoes.
Bake for 10-15 mintues or until crust is brown and crisp.