Dorel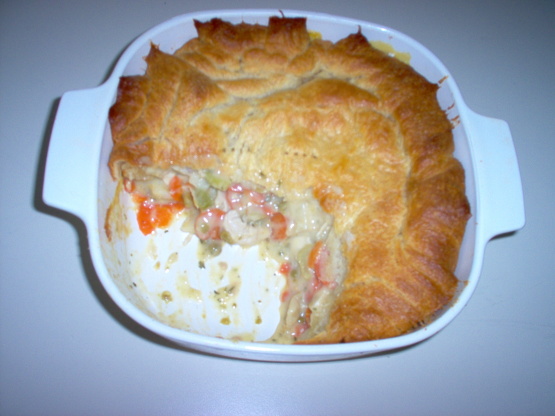 This is a not-too-difficult, very eye-pleasing recipe. I found this tasty recipe in a Taste of Home book and added my favorite pie crust recipe. Even my husband, who hates the store-bought variety of shepherd's pies, likes this! I have written detailed instructions for the simple crust; even if you are inexperienced you can do this!

I remember when I was little and Mom would buy those meat pies from the store-I strongly disliked them! This is nothing like that! The vegetables are softer and the crust tastes much better. This is a bit time consuming, but an easy recipe nonetheless. The only thing I didn't add was the celery, and I enjoyed adding my own herbs and spices. Since Valentines is a few weeks away, I cut out a little heart for the middle! Thanks J-Lynn for this recipe! Even my hubby liked it!
First make the pie crust: Sift together flour and salt, then cut in shortening until evenly blended.
Sprinkle in ice water, mixing with a fork until dough is moistened.
Form into a ball, wrap with plastic, and refrigerate for 1 hour.
Turn a 1 1/2 quart round deep baking dish upside down on a piece of wax paper and trace the outline with a marker (You will use this as an outline later).
For the filling: cook the carrots, celery, onion, and potato in water in a saucepan until tender- about 13 minutes.
Drain, then stir in remaining ingredients- you may add any other herbs here to your taste.
Spray the 1 1/2 quart baking dish with olive oil, then pour in the chicken mixture.
Flatten your dough ball a bit, then place between two sheets of wax paper- one with your tracing of the dish on it.
With a rolling pin, roll out the dough into a flat circle just a bit larger than your tracing (Be sure to use strokes in every direction, so that you have an even circle).
If the wax paper is sliding around, put a few drops of water underneath the bottom one to stick it to the counter.
When you have the right size, carefully peel off the top sheet of paper, and trim the dough to make a neat circle.
Pick up the pie crust on the bottom piece of wax paper, and center it on top of your chicken mixture.
Slowly peel off the paper.
Press the crust gently down against the filling around the sides, then use your fingers or a fork to seal the edges to the sides of the dish.
If you have extra dough from trimming, roll out and cut into a shape to decorate the top of your pie!
Cut slits in the crust to vent.
Bake at 350 degrees for 50 minutes.