momaphet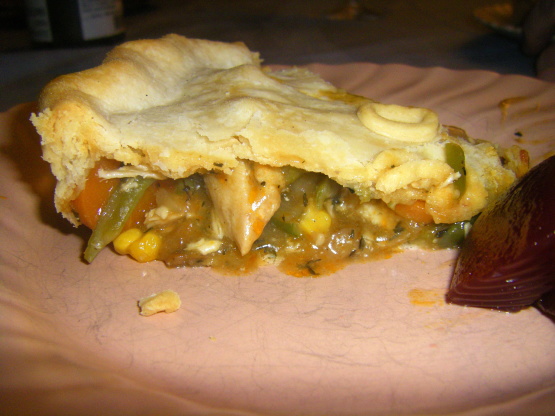 I've been making this recipe since I was first married over 27 years ago and it is still a family favorite. I made a turkey for our first Christmas and used this for the leftovers after seeing the recipe in a Campbell's soup ad. Now we actually prefer it made with chicken, so I almost always roast 3 birds at a time so there will be leftovers to make 2 pies. This is wonderful served with cranberry sauce and with leftover mashed potatoes and gravy. The preperation time doesn't include making your pie crust.

Have to have a chicken pot pie once in awhile and so happy for this recipe. I did use a couple chicken breasts that I let simmer in chicken broth and did include the celery. The golden cream of mushroom soup is so much better then the regular. Cant make pie crust so I used frozen that thawed on the counter for a few minutes. Loved the green beans instead of peas! Will make again! Made and reviewed for the CQ 2015.
Preheat oven to 375 degrees. Steam onion, carrots, celery with butter and spices until the carrots are tender, the microwave works great for this.
In a large bowl stir together the cooked veggies and all the other ingriedients.
Line a pie plate with the bottom crust, pour in filling, cover with top crust, turn under edges and crimp, cut steam holes in top crust. Bake 45 minutes, top crust should be lightly golden brown. NOTE: Recipe can be doubled to make 2 pies.