Linky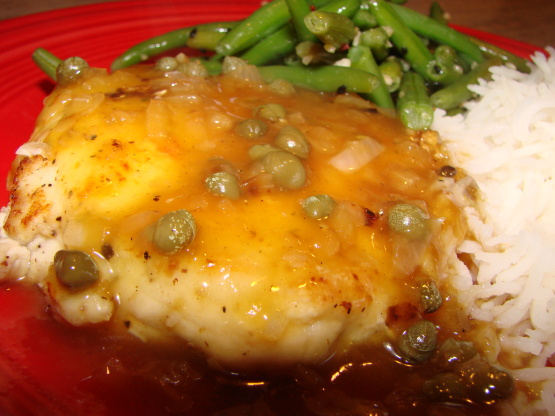 There is no butter in this using just a bit of olive oil that keeps the good fat in you and the bad fat (butter) off you. This is a great light dish for those romantic evening when you don 't want to get weighed down!

Lovely chicken piccata! very flavourful with the capers and lemon. I had to use regular onion, finely chopped, couldn't find any decent shallots. The parsley was a nice fresh finish. I think it's important that the chicken be well pounded to very thin so that it can be cooked with high heat quickly. We loved the crisp outside and succulent inside and the sauce was delicious served with mashed potato and steamed broccoli. Thanks for a delish dinner Rita, I will make it again.
Lay the chicken between two pieces of waxed paper and flatten each cutlet with the flat end of a mallet until thin.
Heat the olive oil in a large, non-stick skillet until hot. While the oil is heating, season the chicken with salt and pepper and dredge it in flour.
Sauté the chicken over high heat, about 3 flip add shallots and cook 3 more minute. on other side. Remove chicken to a warm platter and keep warm.
Quickly add the chicken broth to the pan and stir with a wooden spoon to release any yummy bits that may be stuck to the pan. Cook until the broth has reduced by half. Add the lemon juice and capers. Pour the sauce over the chicken, sprinkle with parsley and serve.