Chicken Piccata Fettuccine
Chouny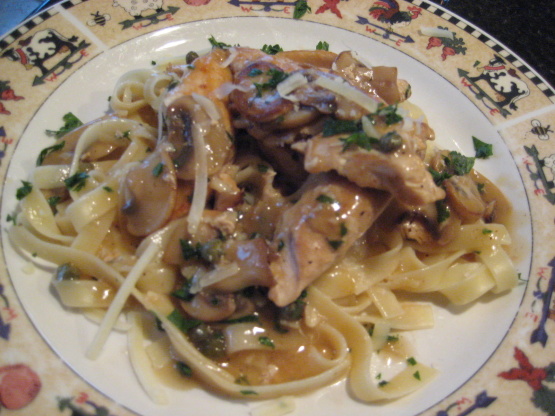 This recipe is a WINNER in my family! The sauce, light and tasty served over warm fettuccine will please everyone's palette. If you brine your chicken breast before, the meat will be even better and very very moist (BRINE: 8 cups water + 1/4 cup salt + chicken breasts. Let chicken marinate in water and salt for 4 hours or over night if you have the time, but 4 hours is fine for me)
Rince chicken, melt oil in large skillet and brown chicken strips until golden.
Finish cooking chicken in warm oven (300F) while preparing the sauce.
In same skillet, melt oil & butter and brown mushrooms until soft and golden. Add garlic, cook for 5 minutes.
Deglaze your skillet with chicken broth and wine. Add lemon zest, lemon juice and capers. Cook for approximately 5 minutes. Add salt & pepper to taste.
In small bowl, mix corn starch with cold water until disolved. Pour in skillet, bring to a good simmer and whisk frequently until sauce thickens. Add chicken and cook for 5 minutes.
Cook fettuccine in salted water.
Serve chicken and sauce over warm fettuccine, sprinkle with fresh parsley and freshly grated parmesan cheese.