adkumata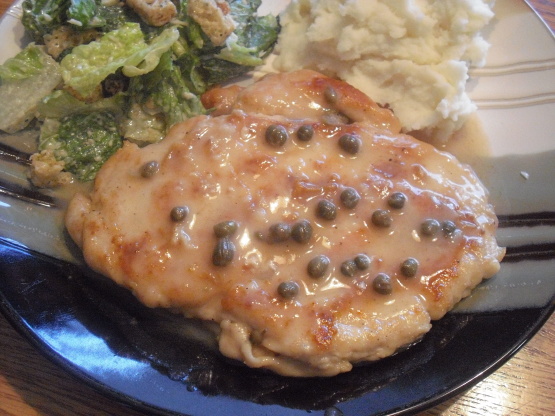 This was absolutely wonderful! I made this exactly as directed except for two things: I sliced the chicken breasts in half and lightly pounded them, and I coarsely chopped the capers (from experience, so that they don't roll off the chicken). Chicken piccata is one of my favorite dishes, and this recipe is a winner. You've done it AGAIN, Mean - yet another stellar recipe!
Place chicken between 2 large sheets of plastic wrap.
Using meat pounder or rolling pin, lightly pound chicken to 1/4-inch thickness.
Sprinkle chicken with salt and pepper.
Mix 1 tablespoon butter and 1 1/2 teaspoons flour in small bowl until smooth and set aside.
Place additional flour in shallow baking dish.
Dip chicken into flour to coat; shake off excess.
Heat 1 tablespoon oil in each of 2 heavy large skillets.
Add 2 chicken breasts to each skillet and cook until golden and cooked through, about 3- 4 minutes per side.
Transfer chicken to platter; tent with foil to keep warm.
Bring wine, lemon juice and broth to boil in one of the skillets over medium-high heat.
Whisk in butter-flour mixture and boil until sauce thickens slightly, about 2 minutes.
Stir in capers, parsley and remaining 2 tablespoons butter.
Season sauce to taste with salt and pepper.
Pour sauce over chicken and serve.