Loryn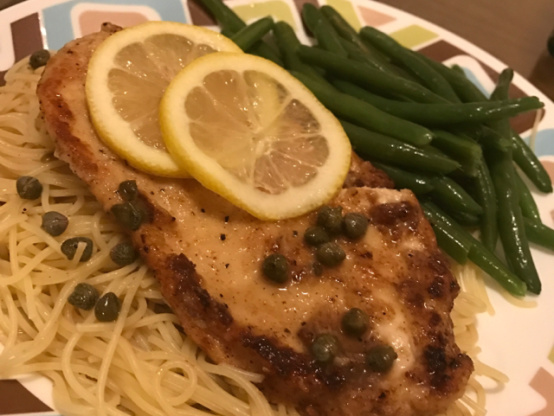 This is a nice, easy recipe that is delicious!

Outstanding! White meat is sometimes boring. Not so with this recipe. The sharpness of the wine, lemon juice & capers is refreshingly pleasant. To balance the meal, I served this with a curry rice (with golden raisins, green onions & toasted almonds) and melon peach salad, both on this website. It was great with a quality chardonnay. I plan to serve it again at a dinner party I'm giving in a couple of weeks. I think an onion focaccia with Ranch dipping sauce will make a nice appetizer. And dessert will be chocolate-dipped cookies and chamomile tea.
Combine flour, salt, and pepper in a shallow dish.
Coat each breast with flour mixture.
Shake off excess.
In a skillet, melt the butter.
Add the chicken breasts and sauté (turning once) over medium heat for 5 minutes or until cooked through.
Remove chicken from skillet.
In same skillet, combine the chicken broth, wine, and lemon juice.
Boil sauce, reducing it by one third.
Top chicken with sauce.
Sprinkle with capers.