Hadice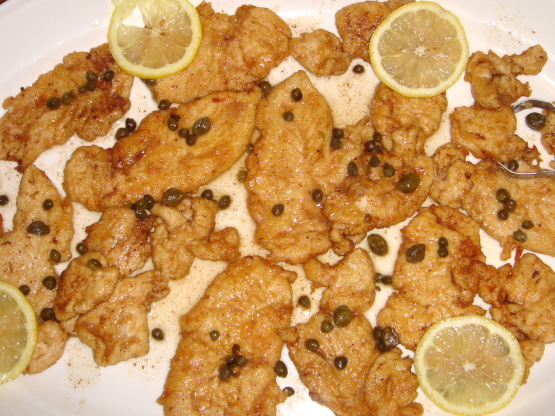 Fabulous chicken is all I can say. I've never served it without rave reviews.

This was very nice and very quick and easy to make. I'll defo make it again - I always need quick dinners! Next time I think I will hold off on the lemon juice by a fraction. I might try making it with the traditional white wine as well. I served it with wild rice and beans. Thanks for posting!
Place each breast between two sheets of waxed paper and pount to a one quarter inch thickness. Sprinkle chicken with salt, pepper and paprika. Dredge lightly with flour.
In a large skillet, heat butter and olive oil until bubbling. Saute chicken breasts for two to three minutes on each side. Do not overcook. Drain on paper towels and keep warm.
Drain all but two tablespoons drippings from the pan. Stir in Madeira or Sherry. Heat the liquids, scraping the pan to loosen any browned chicken. Add lemon juice, stirring until sauce thickens. Stir in capers.
Place chicken on a platter and garnish with lemon slices.