loof751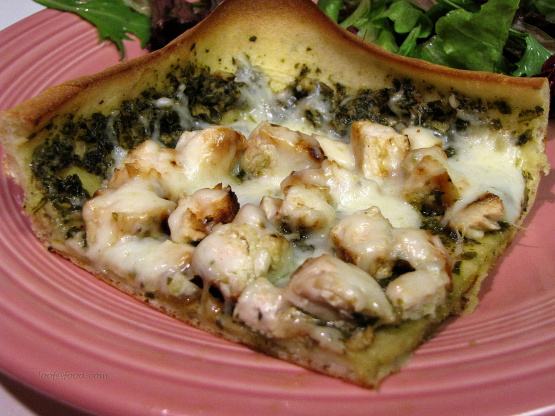 I can't remember where I got the idea for this recipe, but it's absolutely delish! Some time's we buy the crust, but we usually make it.

So easy to make! Would be a 4-5 star recipe with less pesto; the amount was too greasy for us. I would probably use half the amount, coating the chicken with it and/or smearing it across the crust and dotting some across the top for the same flavor but less of an oil slick. Maybe it was the pesto we used though!
Preheat oven to 400°F.
Spray pizza sheet with raised edges with Pam.
Combine all crust ingredients and mix well.
Pour batter on to pizza sheet, coat evenly.
Bake crust for 20 minutes.
Let crust cool for a few minutes, then spread pesto on crust, sprinkle with chicken and cheese, bake 5 more minutes, or until cheese is melted.