Chicken Pesto Pasta Salad
Mary H.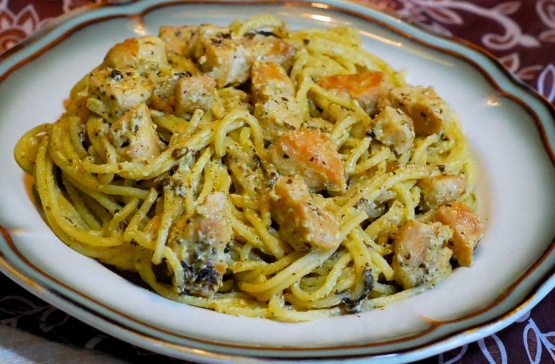 Super easy pasta salad- wonderful for any thing from a brunch to a summer dinner. Everyone likes it- even my picky 3 year old! My husbands co-worker brought this to share for an event and he begged for the recipe. The only particular is that the pasta salad will taste best if you use the pesto in a plastic container in the refrigerated section. The serving size stated is the pasta salad as main dish- in a pot luck or as a side it serves a lot more.

Absolutely delicious!! This will definitely be on my regular rotation. Thanks MamaRachel!
In a large bowl whisk together pesto, vinegar and 1/4 T salt and pinch of pepper. Gradually whisk in oil until smooth.
Cook the orzo add 2T salt in cooking.
Drain and rinse under cold water and drain again.
Add orzo to vinigarete and toss.
Add chicken, and tomatoes and toss.
Tastes best chilled- though it's fine warm.