This is a nice simple to prepare & tasty pasta, if you don't have sun-dried tomatoes just use some fresh chopped ones & you can also experiment with different flavoured pestos, I usually use basil pesto but will be trying sun-dried tomato pesto next time.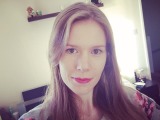 What a delicious, easy dinner recipe! This was awesome! It disappeared very quickly. Love all the flavours; simple, but they really hit the spot!
Heat oil & saute onion & garlic until tender, add mince, brown well breaking it up with a spoon as it cooks.
Stir in sauce, cream, tomatoes & seasonings, simmer for 5-10 minutes.
Cook pasta in boiling salted water until tender, drain & toss through sauce.
Top with basil & parmesan to serve.