Chicken, Peppers & Rice Caribbean Style
Rita1652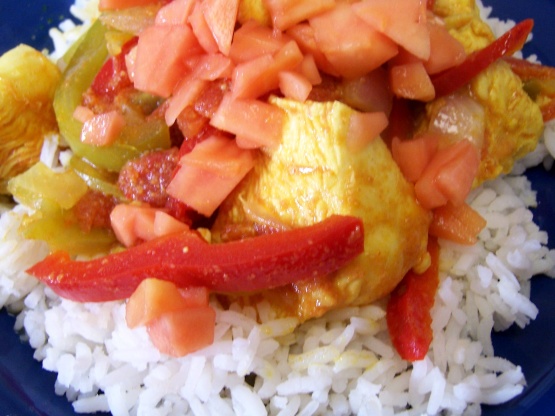 Mild curry flavor, spicy but won't bite you too hard! Very attrative to serve. It is a meal on it's own for lunch or dinner Tostones (Fried Platains) are a nice side dish with this recipe Cook time does not include marinating time

A very nice chicken curry which presents beautifully--the colors of the peppers remain very bright and the dish looks beautiful. The flavor is very good, but there is an element missing--whether the curry needs a touch of cream or a bit of sourr cream--something to smooth the taste and bring the flavors together. I used Caribbean Curry mix #158082 to make the curry paste for the marinade.
Combine the marinade ingredients in a large bowl or zip lock bag, mix well.
Add chicken cubes, mix into the marinade so all the pieces are covered.
Place in the fridge for 1 to 3 hours.
Remove chicken from the marinade-save the marinade.
Heat 1 tbsp oil in a skillet.
Brown the chicken cubes on all sides.
Add marinade and simmer over medium heat until the chicken is cooked apprx 15 minutes.
Add red & Green peppers.
Simmer 5 minutes longer.
Meanwhile cook the rice (use your own favorite method) add 2 tbsp sugar or sugar sustitue while cooking, mix in well.
Serve chicken over the rice, top with the chilled papaya cubes.
Enjoy.