redbna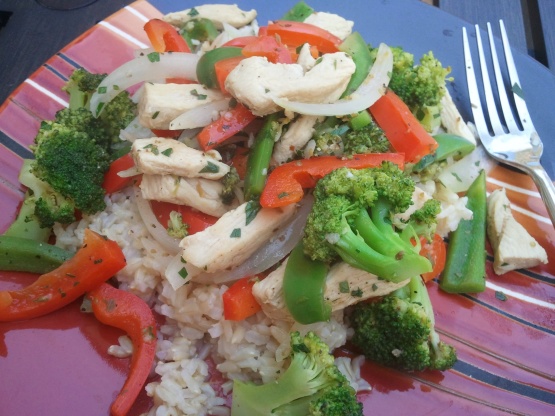 (Diabetic Friendly) I really enjoy stir frys and this one is really good with the addition of the lemon juice. I usually put this on brown rice. Easy, tasty and healthy!

I made this last night and served over pasta for a little change. Really enjoyed the flavor of the dish with the lemon and and parsley but we thought that it was a little dry. Would have preferred to have a bit more sauce. Not a problem though next time we will add chicken broth and cornstarch to make a quick sauce. Will be adding this one to my favorites cookbook and making again in the future.
In a large non-stick skillet, heat oil oven medium-high heat; add chicken and stir-fry until done and lightly browned, about 3 to 4 minutes.
Add garlic and cook 15 seconds, stirring constantly. Add bell pepper strips, mushrooms, sliced onion, cumin and oregano. Stir-fry for 2 to 3 minutes or until crisp tender.
Add lemon juice, parsley, salt and pepper; toss to combine well and serve.