loof751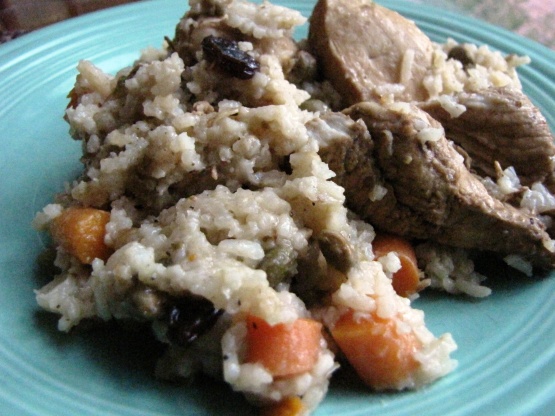 Posting for ZWT 5 For the Caribbean region Trindad This is different from the other Pelau recipe posted It is a one pot meal.

Boy this was good! So unique and such great flavor. I made this just as specified, using boneless skinless chicken breasts which I cut into "thigh-sized" pieces. I even found pigeon peas in the international section of my grocery store and they were perfect in this dish. The whole family just raved about this dish - thanks for sharing this keeper!
Rinse chicken and rub with lime.
In a large bowl: add salt, black pepper, garlic, half of the brown sugar, and half of the worcestershire sauce to chicken, then set aside (the longer you let it sit, the better the flavor!).
Heat oil in large deep pot. When hot, sprinkle in remaining brown sugar. Once sugar begins to bubble, add chicken and coat well until chicken is nicely browned.
Add carrots, rice, hot pepper, water and coconut milk. Mix well. Cover tightly and cook on very low heat 30-45 mins until rice is almost fully cooked. Do not stir while cooking.
Add pigeon peas and raisins. Continue cooking on low heat 10-15 mins until rice is fully cooked. Add additional worcestershire sauce to taste.
VARIATION: pork or beef can be used instead of chicken.