Chicken Pasta With Curry Dressing
Bayhill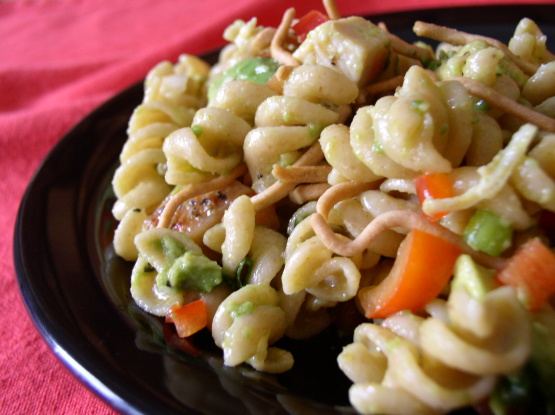 I have used this recipe a few times now and it is such a great and easy salad to make. I am not sure where it came from but wherever the family loves it during summer and its great for a picnic also, the noodles give this salad an added crunch which I love. I usually use a whole B-B-Q chicken for this recipe or 3 chicken breasts cooked and for the curry powder I find keens traditional curry powder is the best to use, but you could use what you have on hand.
Delicious! We really enjoyed this quick, easy, and flavorful salad. The subtle curry flavor of the dressing compliments the other ingredients really well. I used whole wheat spiral pasta, and chopped the chicken instead of shredding. Also, I wasn't sure what crunchy noodles are in Australia, so I used crunchy chow mein noodles. To prevent the noodles from getting soft, I added them to each individual serving rather than the entire salad. My family loved this and gave it two-thumbs up. Thank you for sharing this wonderful recipe...it is definitely a keeper! *Made for 8th Annual Photo Swap*
Bring a large pan of water to boil, and when boiling add pasta. Boil, uncovered, for about 10-12 minutes or until tender. Drain pasta then rinse pasta under cold water and drain well. Place the oil on clean hands and rub through pasta to prevent it sticking.
Combine pasta, capsicum, spring onions, chicken, avocado in a bowl. Just before serving, add dressing and crunchy noodles, and toss to combine.
TO MAKE CURRY POWDER DRESSING~ Combine all ingredients in a jug. Whisk well.
NOTE~ Salad can be made one day ahead,and kept covered in refrigerator. Only add the crunchy noodles just before serving or they will go soft.