Chicken Pasta Salad With White BBQ Sauce
ihvhope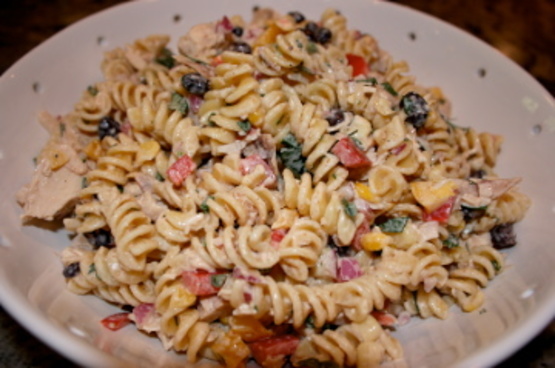 I got this recipe from Cook's Country and I constantly get requests to make it. It's packed full of flavor. The white BBQ sauce makes this salad--just look at the ingredients! You'll want to be sure to mince where it says mince and don't leave anything out. All of the flavors together are outstanding. It's also very pretty.

Very tasty. I used tri-color rotini, and a bit of orzo since my rotini wasn't a pound. Left out the corn and used the whole can of black beans. I also made quite a bit more bbq sauce and added garlic salt, and paprika to it. My pasta was thirsty so I was glad I made more sauce! I've been searching for a pasta salad that is different, easy and yummy... this is it!!
bring 4 quarts water to boil in large pot. Add 1 tablespoon salt and pasta and cook until nearly tender, about 8 minutes. Add corn and cook 1 minute more. Reserve 1/4 cup cooking water, then drain pasta and corn. Transfer to bowl and refrigerate until completely cooled.
Stir in chicken, beans. bell peppers, red onion, jalepeno, cilantro, lime juice, and sauce. Add reserved pasta water, 1 tablespoon at a time, until sauce is loose. Season with salt and pepper to taste.